Welcome to our Nursery class page
We are delighted to welcome all of our new nursery children this year. We have 17 new children and 10 children who are returning to complete their 2nd year with us. Mrs Preston is our teacher and we are very lucky to have two wonderful assistants Yvonne and Carol. This year we have 27 children: 6 boys and 21 girls.
Our nursery is a hidden gem that is tucked in behind the primary school. We hope that the children will have a very special year and blossom in every possible way.
We look forward to sharing with you our journey as the year progresses.
Have fun everyone and keep learning!!
Mrs Preston 😃
Meet our class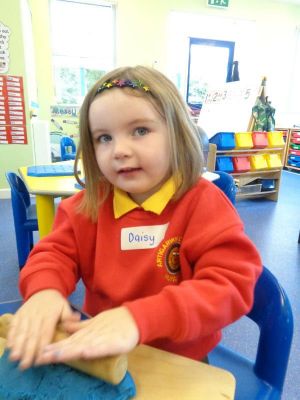 Class photograph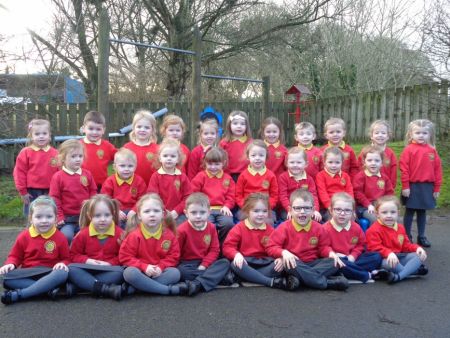 Lots of baby animals come to visit us!!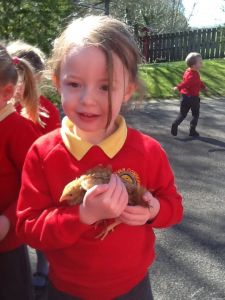 Today we had a lovely visit from Sarah's Mummy, Selena. She very kindly brought in some baby animals for us to see and learn all about. She brought in two lambs, Tommie Tortoise, two chicks and a duckling. All the children had a chance to touch, hold and feed the animals. We were very excited and some children even managed to lift the animals out of their cages by themselves. Selena brought along Jack to help her and he taught us about the difference between a duck egg and a chicken egg. If you don't already know the answer, ask one of the boys and girls from nursery. A big big thank you to Selena for taking the time to do this for all of us.
Star of the week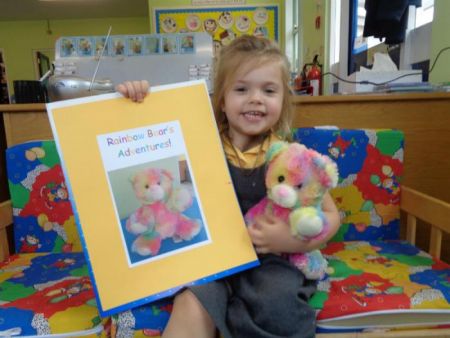 29th September- Robyn
6th October - Sarah
13th October - Mia M
19th October - Alfie
10th November - Mia
17th November - Daisy
24th November - Olly
1st December - Nancy
7th December - Mya
12th January- Max
19th January - Emily
26th January - Tiannah
2nd February - Calvin
9th February- Rachel
23rd February - Melissa
2nd March - Zara
9th March- Lacey
16th March - Abbie J
23rd March - Lily
13th April - Bella
19th April- Ariana
27th April - Annabel
4th May - Abbie R
11th May - Nathan
18th May - Beth
25th May - Aaliyah
Artigarvan Primary School 31 Berryhill Road Artigarvan Strabane BT82 0HN 028 | Telephone: 028 71 883684